Spam/Junk in the Inbox
The email servers of TU Graz scrupulously check every incoming message. Please read our information about spam filters at TU Graz. Nevertheless, errors can occur, questions about this we try to clarify here.
Why Do I Still Receive Emails Identified as Spam?
No system is perfect, we would not like to delete your possibly important emails (we are not allowed to do so), so we leave it up to you if and under which conditions you delete or move emails.
You can do this manually via your preferred email client, many clients also learn and then do this (semi-)automatically. But in the learning phase of the program you have to expect a lot of errors, so we advise to trust in our central analysis and then define appropriate central filters via Webmail/OWA. These can be simple filters that handle all emails marked as spam (all emails that reach a spam score of at least 9.0 are marked by us with "[ SPAM? ]" at the beginning of the subject line).
In addition, the following lines go in the header:
X-TUGAntiSpamFlag:spam
X-TUG-Spam-Level:##########
X-Spam-Score:9.0
X-Spam-Status:suspected
X-Spam-Tests:CiscoESA $Hostname

If it is suspected spam (score > 5.0) then the following lines go in the header:
X-TUGAntiSpamFlag:suspected
X-TUG-Spam-Level:#####
X-Spam-Score:5.0
X-Spam-Status:suspected
X-Spam-Tests:CiscoESA $Hostname


How Can I Keep My Inbox Clean?
Almost every current email program supports the possibility to set up filters. Filters can be used to specify exactly what should happen to electronic mail if it meets certain criteria. This is also possible via webmail and OWA, and it is recommended to set the filters here, because the rules are applied centrally and do not have to be set up twice on the PC or notebook. Via webmail (students, alumni) you can define a filter that automatically deletes or moves all emails with a spam score higher than e. g. 9.0.
If you only want to move (and not delete) these emails to a specific folder, there is already a predefined filter in the list of filters ("Spam"):
For automatic deletion, you can define a rule that looks like this, for example:

Or define a filter yourself: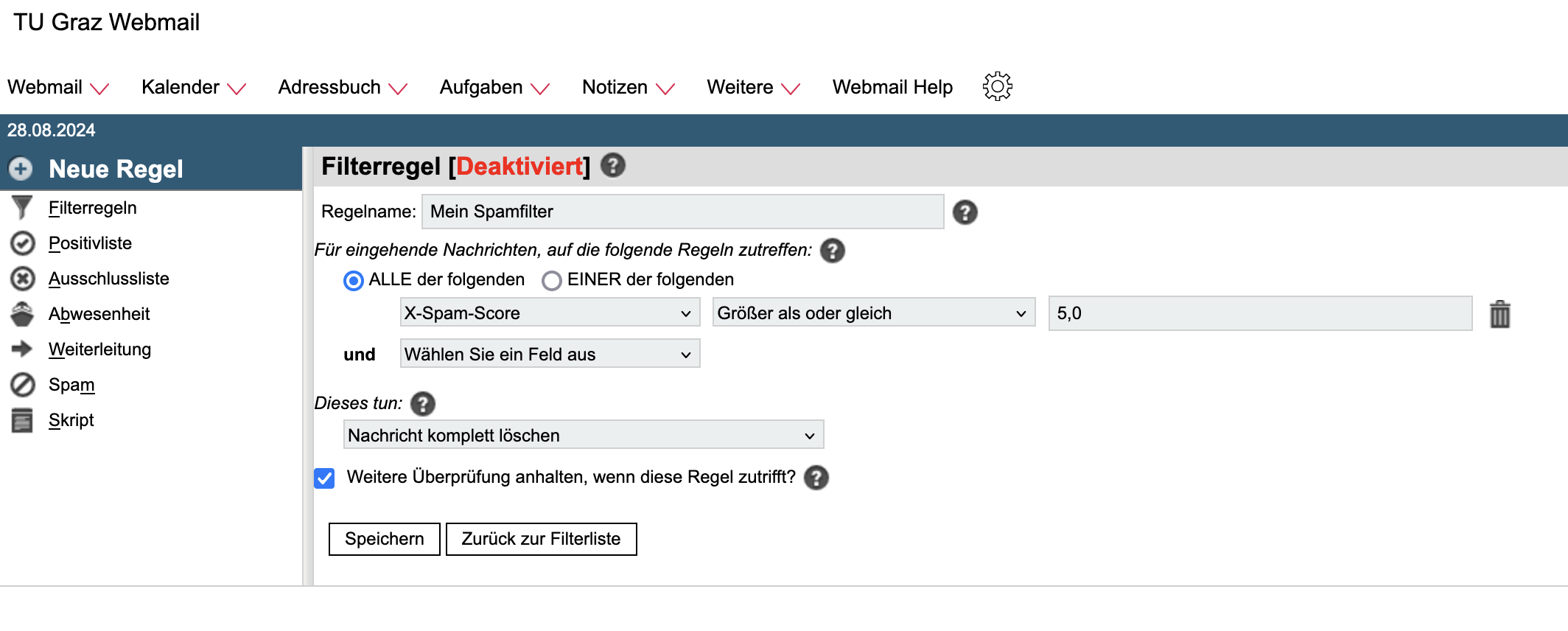 Exchange unfortunately can't handle numeric values in the header lines, so the spam score is additionally represented by an appropriate number of "#" (for 5.0 with #####, for 9.0 with ######### etc.) and you can then discard emails that contain "X-TUG-Spam-Level:#########" in the header lines, for OWA it looks something like this: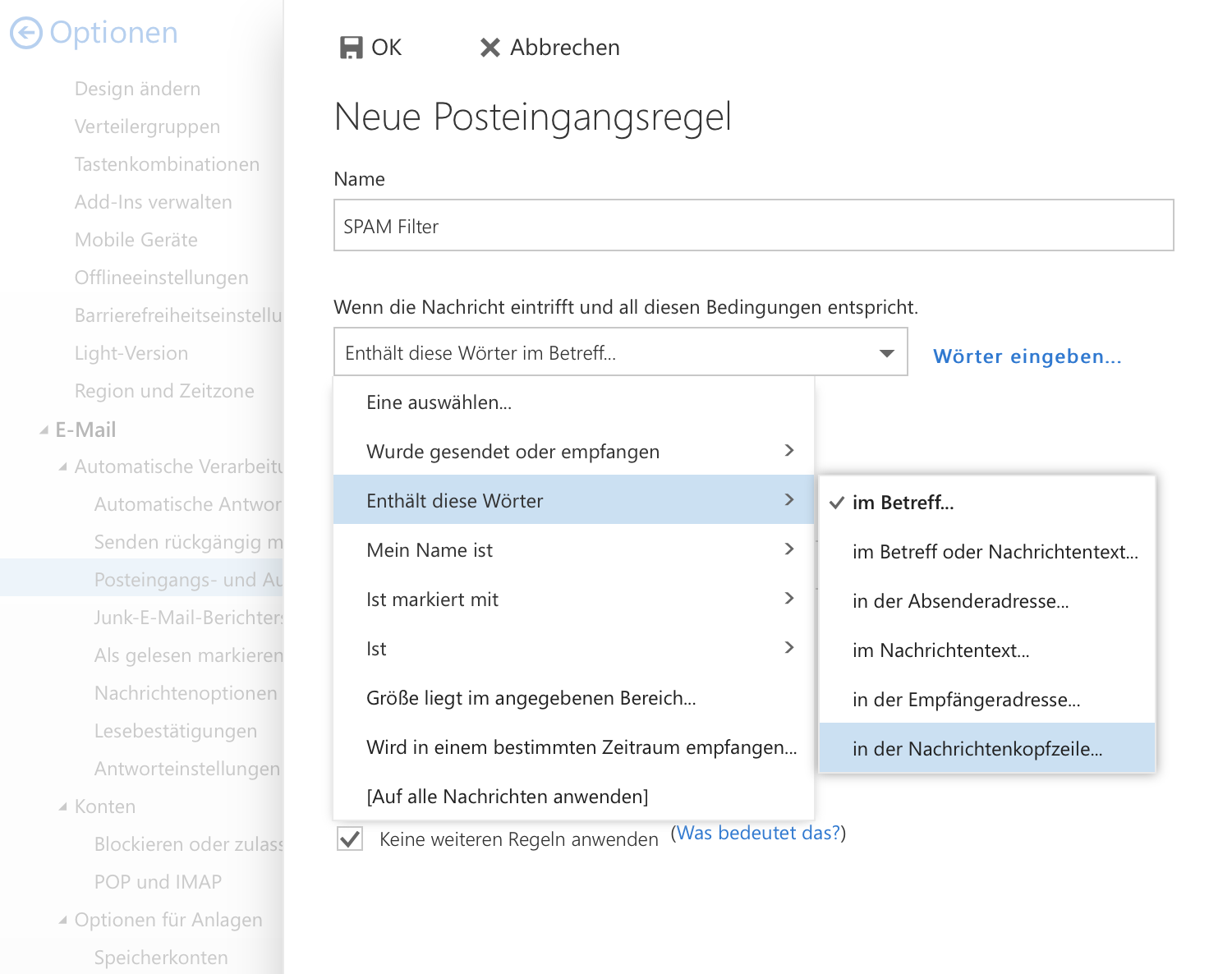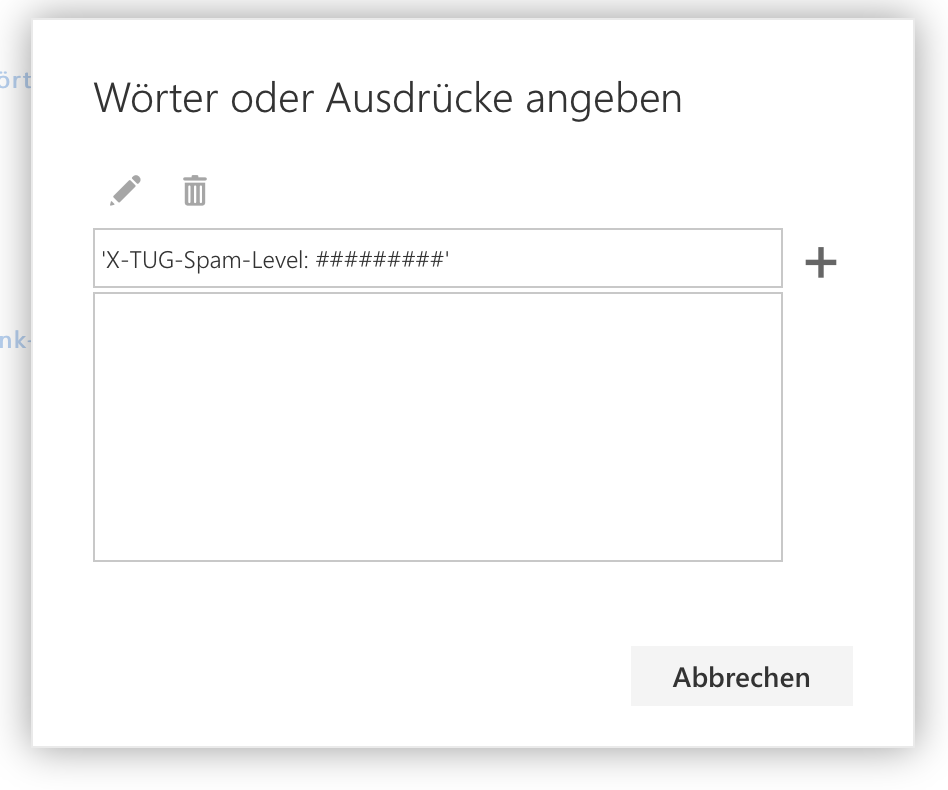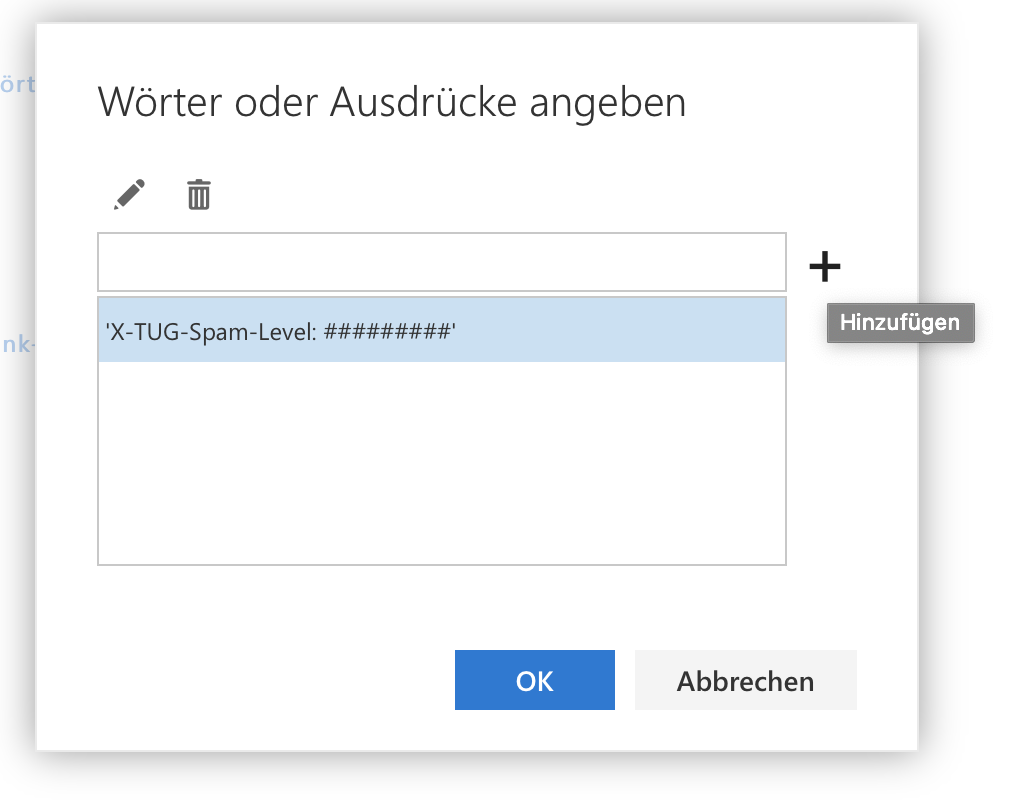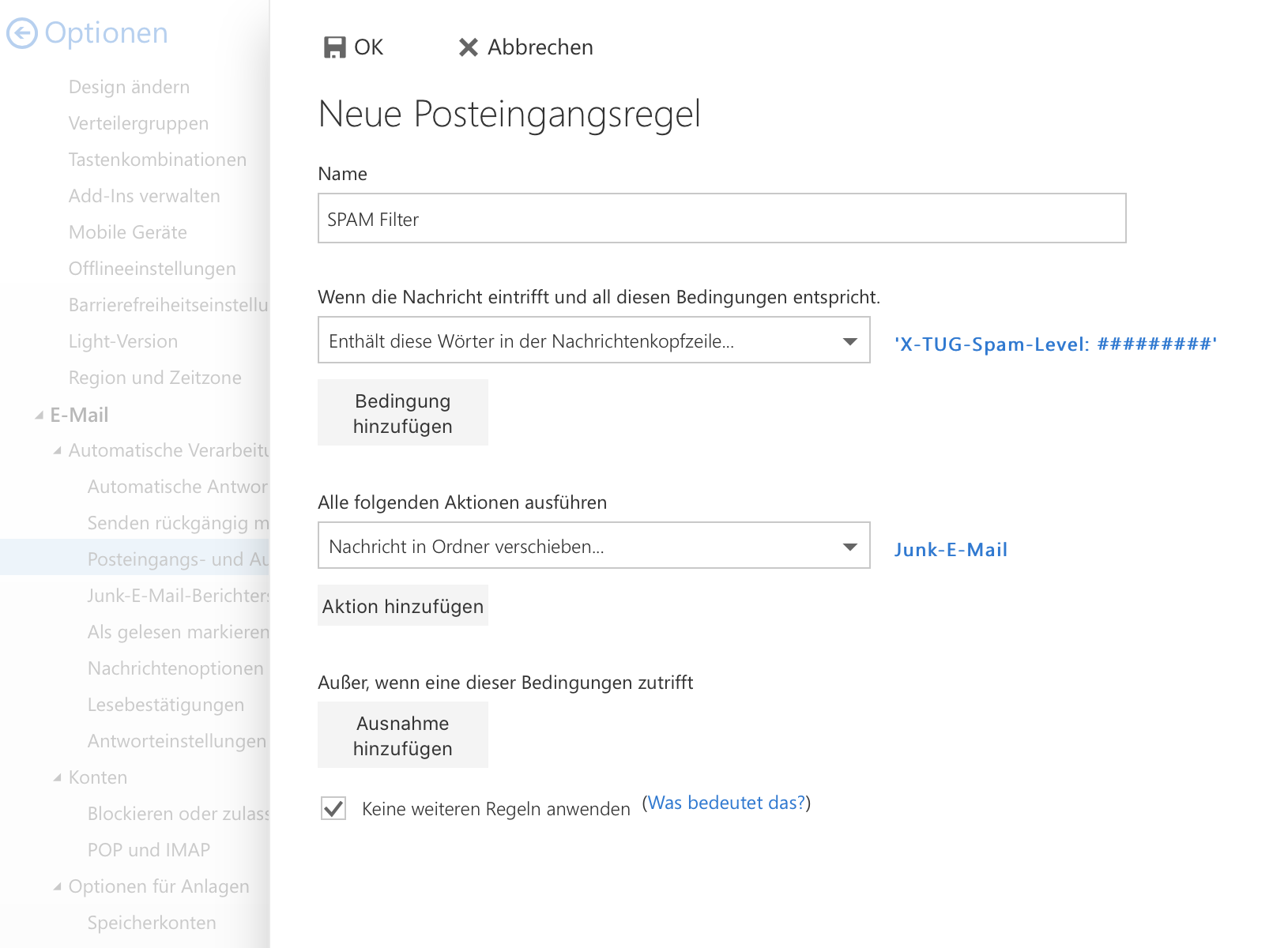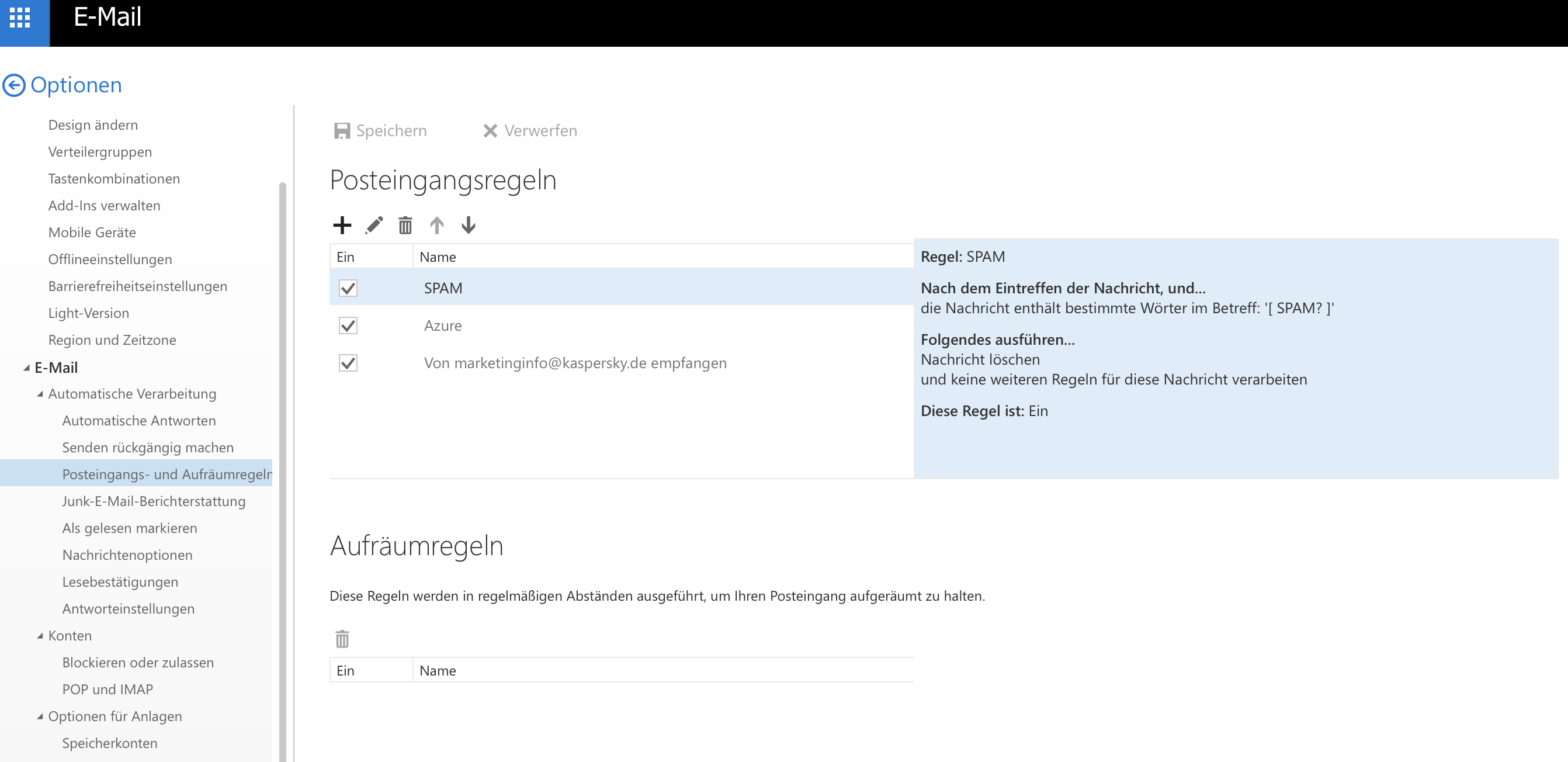 Alternatively, you can delete the emails instead of moving them to a junk folder.
The option to filter for header entries in the "When the message arrives and:" item does not appear in OWA until you select "More options..." below.

How Can I Report Unrecognized or Mislabeled Spam/Junk?
If one of your emails was mistakenly marked with [ SPAM? ], or real spam emails were mistakenly not marked, then there are several ways to report this to us so that we can train the spam filters.
Spam or "ham" (i. e. emails erroneously marked as spam) checked by us is submitted to the manufacturer of our "Email Security Appliance" (ESA) and analyzed again there.
Unfortunately, we cannot influence whether or how quickly this then flows into the filters we use.
Webmail
Students, alumni and users of institute email servers can select these email(s) in webmail and report them as spam (or not spam) using the corresponding button.

Thunderbird
You install the Simple Mail Redirection add-on.
You can then use the context menu (right mouse button) to report emails directly from the list of emails or use the context menu to report emails that are already open or also install the corresponding button:

When you start the add-on, you then enter either the address spam-report@tugraz.at or not-spam-report@tugraz.at (if it was mistakenly marked as spam):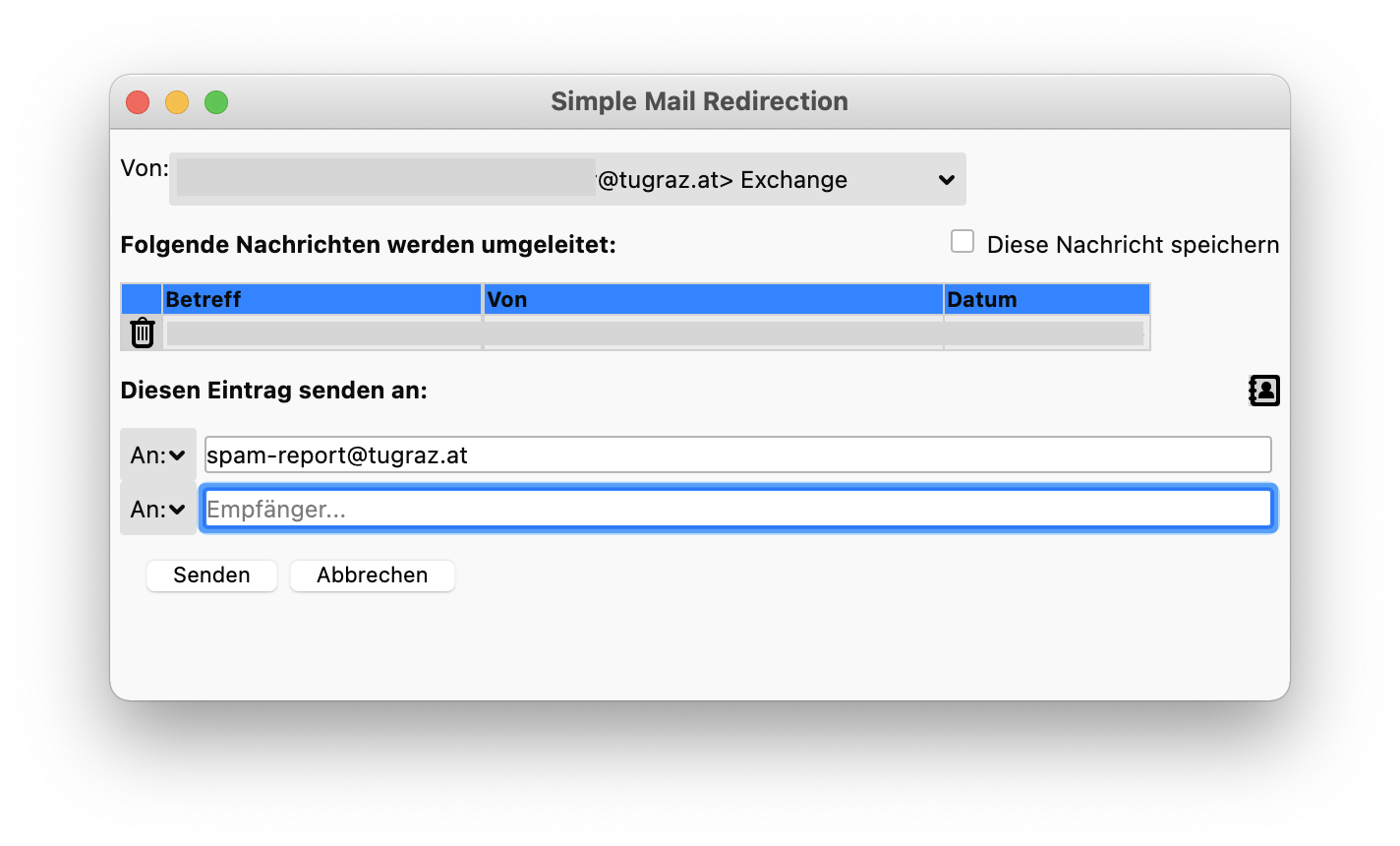 Other Clients that Can Handle Redirection
If your client can handle "Redirect/Resend" (i. e. not "Forward") - e. g. Outlook etc. - then you can also
redirect
the email to the address
spam-report
(or
not-spam-report
) (and please
don't forward
, we can't do anything with that!), the email will then arrive exactly as it was sent and we can then use it to train the central filters.
In Outlook as IMAP client this is done by "Actions" → "Resend this message". For Outlook/EWS and OWA, there is the option to forward an email as an attachment to the address spam-report-attachment@tugraz.at (or not-spam-report-attachment@tugraz.at for mislabeled emails), but the email must not be electronically signed.
Apple Mail can handle the "Redirect" function in principle, but not in connection with an Exchange EWS account.
Error Message When You Want to Report Spam
If you get a message that the email you want to report to us as spam is spam, it means that the filters have already been retrained in the meantime and this email is now already correctly recognized as spam, in this case simply delete the email in question.

Why Are Important Emails Moved to the Junk Folder?
Emails can be moved on the server and/or client side.
On the server side, you can define your own filters (see above: How Can I Keep My Inbox Clean?); on the client side, there are filters that - if they are well trained - achieve a high hit rate (e. g. Thunderbird) and filters that often deliver "false positives" with their own rules (e. g. Outlook).
We advise turning off the local filters in the respective email client and the predefined filters in Exchange, because here it cannot be clearly stated on the basis of which rules e-mails are classified as junk/spam:

and instead train our central (upstream) filters (see above: report spam/junk).